The Evolution of Event Staff App
As Event Staff App (ESA) comes up on its 10 year anniversary, we thought that it would be nice to write up an official announcement about the new version that has just been launched. The story of ESA's birth as a software tool started before the official 2010 launch year. Christophe Sautot (the founder and CEO) grew up amongst his dad's catering business. In his last year of university in 2006, he sought to find a scheduling product that could improve how his dad managed his business' large staff roster. At the time, the only viable product out there was Staffmate. Staffmate had already been around for years, but as a product it was lacking in many areas. Christophe was studying computer science and decided that he could make something better, and fill his senior project requirement. The first version of ESA rolled out 6 months later and became a daily tool that his dad used with every event. As a secret weapon it helped his dad get ahead of the local competition by keeping the troops on point. But soon word spread around town (catering staff often work for more than 1 business), and others asked to use the software as well. The software customer base grew over time, and in 2010 it was turned into an official business. Since then with the help of the Internet, Google, and word of mouth, Event Staff App has grown tremendously to now have customers all over the US and Canada. Event Staff App has helped all types of event businesses, from caterers, to firework show producers, to massive conferences, and this year it was used to staff one of the largest events: Super Bowl LIV!
An Increasingly Mobile World
Our product team never fails to amaze us with their effective anticipation of where things are headed in the software realm. Our functionality stays ahead of the changes and offers things that others tend to copy. Event Staff App was first to use text messaging very early on, and our secret recipe on how we approach text messaging still hasn't been beat by anyone else. When the first version was built, smart phone apps didn't even exist. The "app" in our name derives from the fact that we've always been a Web browser app. Web browser apps, which mimicked desktop software, came into existence during the Web 2.0 era starting around 2004. Mobile apps have been prevalent for quite a few years now, but we have held off on building them due to our customers and their staff indicating that they preferred interacting via text messages and via Web browsers. Text messaging is the best way to engage with staff, even over apps, as there is nothing for them to install or hassle with. Everyone uses text messaging on their phone, and the links that we send can easily used by staff in the Web browser on their phone. One of the items that we are most proud of is that we've always remain focused on ease-of-use with our software. We have very few support requests that come in asking for us for help on how to use the software. Typically people have no issues with jumping into the software and being able to use it with little to no instruction.
New Features and Improved Design
One of the biggest factors to building version 2 was to make it fully mobile friendly. Managers and staff now have access to every feature they have with the big screen (laptop and desktop version). The interface allows for easy touch interaction, efficient layout, and optimized work flows that can be completed on a phone. Whether it is a manager overseeing an event, or staff clocking in/out onsite, every task is a simple process to complete. The following shows some of the new changes.
A brand new interface: New layout, new colors, easy touch points, a full slide out menu, fast navigation: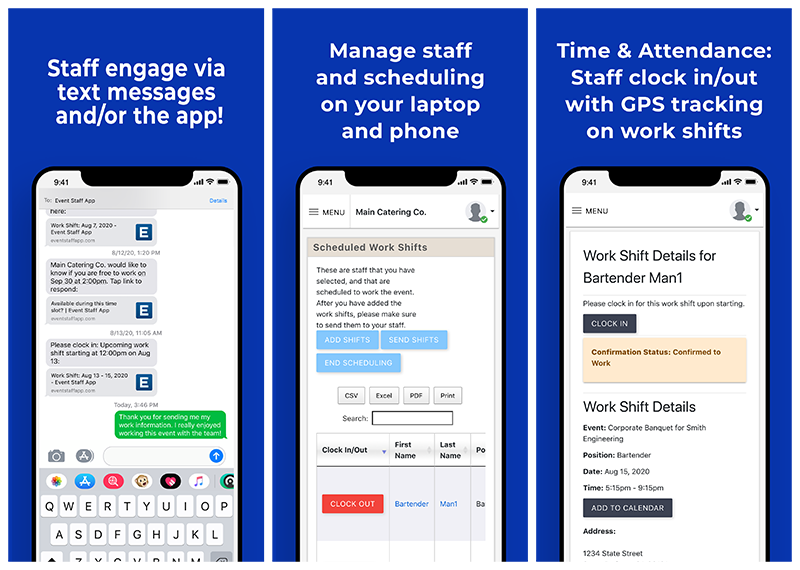 Video demonstrating how to create an event with our mobile app:
Video demonstrating how to create custom fields/questions that staff need to answer with a work shift:
Native Mobile Apps
One of the items that has been in our roadmap on the mobile front was to complete the redesign of our software before launching native (iOS and Android) apps. Our native mobile apps just launched on the Apple App Store and Google Play Store. Our new mobile apps create a seamless experience between our Web app, our text messaging functionality, and our email messaging functionality. Staff and managers can now access all of our platform's functionality on the go, and when on-site at events.
Heading Into the Future
Event Staff App will continue to innovate and build products that make our customers live easier, allowing them to focus on the work that they love to do: producing incredible events. We also will continue to expand upon our current offerings with the hopes of helping our customers grow their businesses as well. As we all know, a lot has changed recently due to COVID-19's impact on the event industry, but as soon as possible we know that our customers will resurge in activity, and we look forward to supporting them in the coming years.
Reference:
Event Staff App – How to create an event on our mobile app
Event Staff App – How to create custom work shift fields on our mobile app