New Functionality to Help Event Businesses With COVID-19
The COVID-19 pandemic has been incredibly rough for the event industry and all those that work in it. Although it will probably take some time for things to return to normal, we are starting to see events commence again in certain parts of the United States and Canada with event businesses that use our platform. As our customers get back into event production we are launching new functionality that will help them get through this new era of dealing with COVID-19. We recently launched version 2 of our software suite, and part of the launch is that we now have some new offerings for our customers that seek to help them with the obstacles that are now in place with production, scheduling, and staffing of events.
Custom Fields and Questions for Work Shifts
One of the items we have recently launched is the ability for event businesses to define questions and fields that staff must fill in when they work a shift at an event. Businesses can define as many questions that they would like their staff to work; these can be questions regarding a staff member's current health and well-being, and this is something that can be used to pose health screening questions that are applicable to following local COVID-19 guidelines that cities might require of event businesses to follow. Or businesses can define questions that they would like their staff to answer before or after a work shift, such as: How did the event go? Did you have any difficulties working this event? Did the customers make any additional requests when you were working?
To add new custom questions or fields, user can click on Settings in the left menu, View Settings, and then click Custom Work Shift Fields to arrive on the new settings page. The simple design allows users to quickly complete the creation of fields in 3 simple steps. After clicking the Add Custom Work Shift Field button, the user will be prompted to write in the question. Then, the user is able to select a Field Type, with the options being "Single Line Text Field", "Multi-line Text Area", and "Dropdown Select". The final step is to choose the target audience in Field Privacy and click Save.
Some example questions for COVID-19 health screening at events might look like, "Have you been in close contact w/ a confirmed case of COVID-19?", "Are you experiencing a cough, shortness of breath, or a sore throat?", and "Have you had a fever in the last 48 hours?".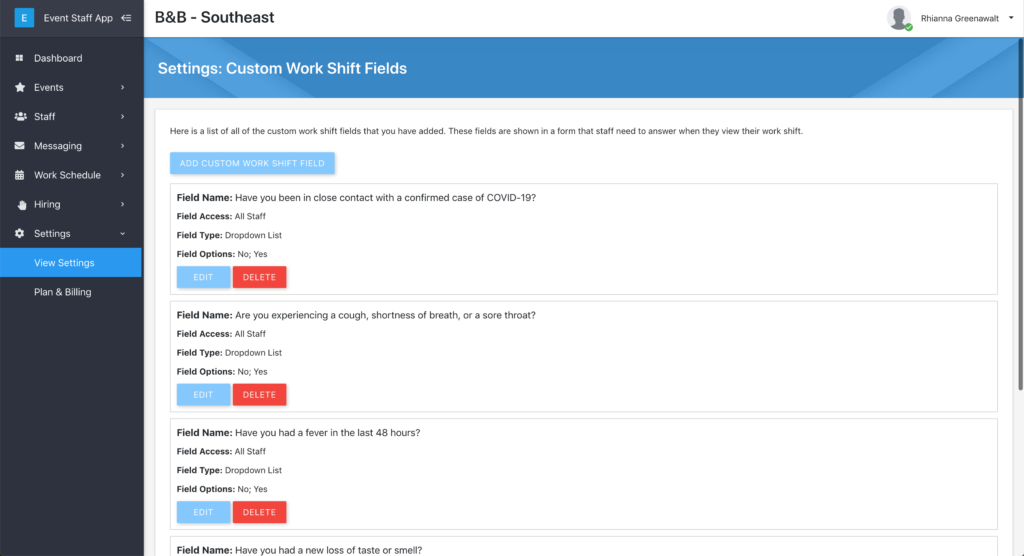 Quick and Straightforward Way to Answer
The screening questions will appear on every staff member's screen when they view each work shift. The work shift questions will display below the Confirm and Cancel buttons, and can be easily answered via their smart phone when on-site at an event. The design of the interface around the questions is meant to make it as easy as possible for staff to put in their answers when viewing a work shift that comes in via a text message sent from the software.
The requirements and format of questions can be completely customized by event businesses to have flexible control over how staff interact with the fields. If the "Single Line Text Field" is selected, there'll be a small blank box to type in. The "Multi-line Text Area" is similar, except the box will be larger. The "Dropdown Select" displays a drop down menu with choices that can be customized by the employer. The page is also mobile friendly, as shown in the image using the "Dropdown Select" below.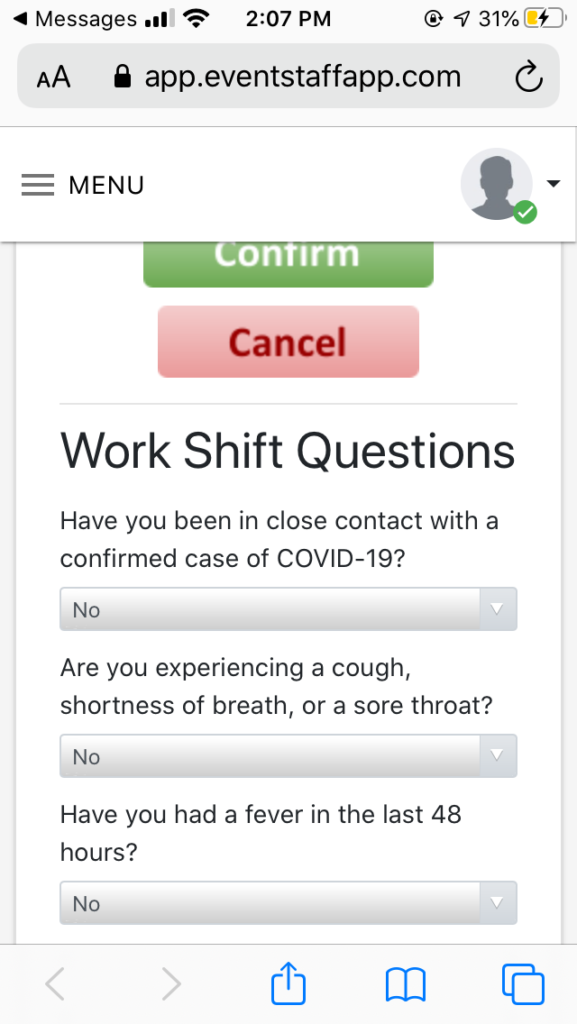 Managers at event businesses can review the responses for each staff member by visiting the staffing page for the event, then clicking the blue Info icon for on an individual work shift for a staff member. The staff member's responses will appear alongside other information for the work shift, which include clock in/out details, pay rate, confirmation by staff member, and shift start + end times.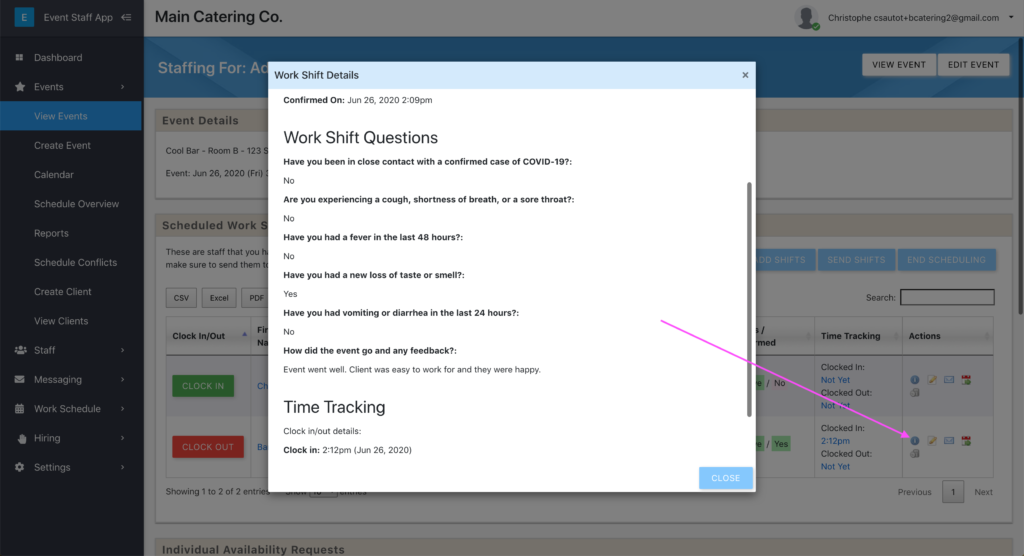 Event Staff App is looking forward to seeing our customers and their teams get back into the work they love, and we will do our best to support our customers in providing a platform that continues to make their lives easier. We strive to help event businesses grow, produce wonderful events, and reduce the complexity of working with their exceptional staff.